Welcome to Drama Bugs Performing Arts Classes
Have you got the Bug to perform? Then Drama Bugs classes are for you.
Based in Vancouver, BC, Drama Bugs caters to children age 1 to 15 years.
In class your children will learn the basics of performing arts, acquire performance skills while building confidence, and improve their vocabulary. They are encouraged to awaken their imaginations, develop social skills, and of course have lots of fun!
The arts help enhance our development.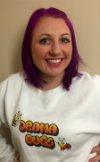 Drama Bugs Director Rebecca has studied how the arts enhance children's learning in cross curriculum activities for over a decade.  She has found that participating in arts activities helps children to gain the skills necessary for adapting to and respecting others and their ideas, as well as understanding human experience.  It also helps in developing creative problem solving skills and communicating thoughts and ideas in a variety of ways.  Learning through the arts has been proven to lead to stronger academic motivation resulting in greater educational achievement and higher test scores.
Rebecca is a certified ECE instructor and designs her younger classes to help students be prepared to enter preschool and kindergarten.
Rebecca believes that the arts are languages that everyone can speak, cutting through differences in culture, education and background.